The award-winners at the 12th annual Glasgow Short Film Festival have been announced. The winners were revealed at the closing ceremony at Civic House last night, along with the festival audience's selection of their own favourite shorts.
Decided by an international jury made up of Jacopo Chessa, director of Torino Short Film Market, French curator and photographer Pamela Pianezza and French-Canadian filmmaker Shalimar Preuss, the 2019 Bill Douglas Award went to Liminality & Communitas, which follows a man gathering roadkill from the edges of the highway. Finnish director Laura Rantanen explores the boundaries between fact and fiction, life and death, civilization and its margins.
Special Mentions went to two films enjoying their international premiere at Glasgow, Shun Ikezoe's Jujuba, in which an exotic fruit evokes memories of family in flux and Crystal Kayiza's Edgecombe, an elegant, sensitive and powerful take on what it meant historically and still means to be black in America.
The 2019 Scottish Short Film Award, sponsored by independent Scottish production company  Blazing Griffin, was decided by a jury made up of Sarah Dombrink, Acquisition Manager at interfilm Berlin Short Film Sales & Distribution, Wouter Jansen of Some Shorts festival strategy and distribution company based in the Netherlands and Leslie Hills, producer with Edinburgh's Skyline Productions. They chose Mum's Cards by Glasgow artist, filmmaker and musician Luke Fowler, whose work explores the limits and conventions of biographical and documentary filmmaking. Mum's Cards touches on the whole multifaceted life of Luke's mother Bridget, a sociology lecturer at Glasgow University since the 1960s, and provides a unique insight into a time of critical change for women and society.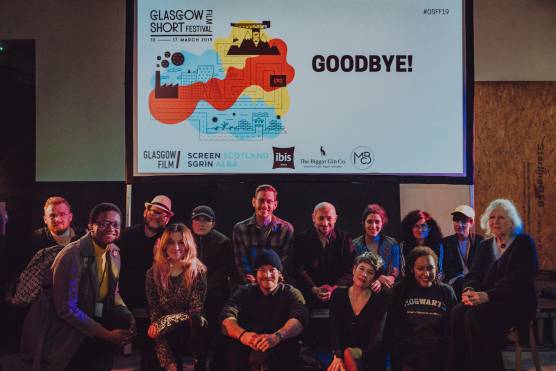 Special mentions went to Simone Smith's SLAP, a kaleidoscopic and unsettling story of a nine year old girl trying to fit in and Hannah Currie's We Are All Here, an emotional film about the tragic death of Glasgow rapper Lumo and the shockwaves felt by the Scottish hip hop community.
The 2019 Audience Awards, given to the International and Scottish Shorts with the highest votes from the festival audience, went to Rishi Chandna's Tungrus (International), a nerve-jangling documentary observing the peculiar lives of a middle-class household in Mumbai, turned topsy-turvy when the eccentric patriarch brings home a baby chick and Hannah Currie's We Are All Here (Scottish), receiving its second decoration of the evening.
Other awards given out at GSFF19 included the Production Attic Short Film Pitch Award, giving emerging filmmakers the opportunity to pitch for in kind equipment hire and a small cash bursary to realise their ideas. Marcus McNair and Lorna King took the prize for their short film pitch Exotic. The Blueprint Hilton Earl Memorial Award – an audience award selecting the best film from across four screenings of independent Scottish film throughout 2018 and early 2019 - was won by In the Fall by Tom Gentle, the story of a family treading the tightrope between survival and ruin in 1920s Scotland.
Matt Lloyd, Director Glasgow Short Film Festival said: "I'm delighted to see such bold choices from our juries. Both winning films play with form and narrative, tackling vast subjects obliquely through a seemingly small focus. The special mentions indicate great talents in the making; we can't wait to see what they will do next. And it's an indication of the importance of Hannah Currie's We Are All Here that the film received nods from both the jury and the audience. This is a vital film addressing mental health stigma amongst young Scottish men.
This has been a truly significant year for Glasgow Short Film Festival; our programme has reached new and vocally enthusiastic audiences, quite literally in the case of Richy Carey's extraordinary live music/film event Accents. We have seen sell-outs for not only the ever-popular Scottish  Competition, but also our unique VR focus and special programmes on subjects ranging from anti-ethnography to avant-garde jazz. Thanks to all the funders, partners and supporters who made the festival possible, to the many filmmakers and guests who attended from across Europe and elsewhere, and above all to Glasgow audiences for turning out for everything we launch at them."
Glasgow Short Film Festival 2019 ran from 13-17 March was made possible by funding from Screen Scotland and its 2019 sponsors Blazing Griffin, ibis Glasgow, Merchant City Brewing and Biggar Gin.
Glasgow Short Film Festival will return in March 2020. The call for submissions will open on Monday 3rd June 2019.