If 2020 was – for film festivals and exhibitors – about learning new digital skills, rethinking engagement with our audiences and reinforcing networks of support, 2021 has mostly been about treading water, waiting for the vaccine to allow us to return to some form of business as usual, enhanced by these newfound engagement tools, and gradually accepting that we're far from out of the woods. 
Since the pandemic began, GSFF has reached at least 36,000 people online. Our second online edition in March saw 500+ industry attendees from forty-four different countries. There's no doubt that taking the festival online has given us a reach we could only dream of previously, and the feedback we received from people who otherwise could never attend the festival, due to accessibility challenges, was truly heartening. We're particularly proud that captions for deaf and hard of hearing viewers were available across the entire programme, and that on average around fifteen people per programme accessed those captions.
And yet... an online festival is little more than a short-term VoD platform, with very little sense of community or shared experience, whatever virtual hangouts or Instagram takeovers are offered on the side. We're desperate to reoccupy CCA and Civic House, to bring together Scottish and international short film nuts in front of big screens again.
We've both taken some time to step back and reflect, after 2020's full on head-rush of activity. Matt has spent a large chunk of the year focusing on house renovations and largely avoiding online film festivals altogether. Sanne was invited to a curation residency in Vienna, and also spent time in the Austrian capital working for sales and festival distribution agency Square Eyes. That allowed GSFF to have a physical presence on the international festival circuit again, as she attended Uppsala Short Film Festival, Kurzfilmtage Winterthur, and International Documentary Festival Amsterdam. Short films in a cinema, it's been a while! 
All this means that we are catching up on our shorts viewing as we speak, and we send big thank you hugs and kudos to our viewing team, who have worked through the colossal 4,000+ submissions we've received for our 15th edition. 
That said, we have each chosen one film that stuck with us in 2021, as well as a few in-person cultural happenings.  
Shorts of the Year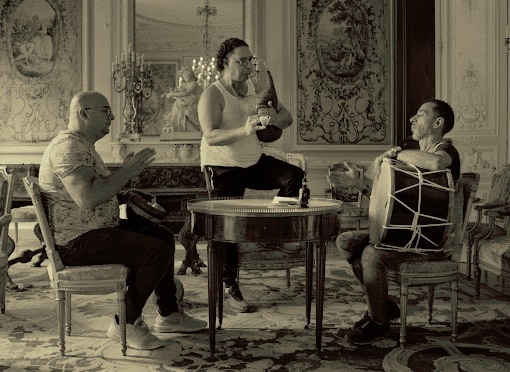 Matt: Brazilian/German-Irish duo Bárbara Wagner and Benjamin de Burca's One Hundred Steps is the latest in a series of musical documentary collaborations with artists and musicians in specific cultural settings. Their film RISE was a highlight of 2019 for both Sanne and me. In fact Sanne has already written more eloquently than I could on this new film, but to summarise, it takes as its starting point the theories of writer Bob Quinn, which propose that Irish music and expression is heavily influenced by North African cultures, in an anti-colonial feedback loop of trade routes. In two parts, we see Irish and North African musicians and dancers visiting eighteenth century stately homes in southwest Ireland and in Marseille, first as curious tourists, then staking their claim to these rarefied spaces with impromptu performances, imprinting their culture where it is not formally recorded. Throughout, the focus is on the people, rather than on the material surroundings that are intended to inspire awe and reverence. The film cuts across barriers of wealth, class and race to reinscribe history through song and movement.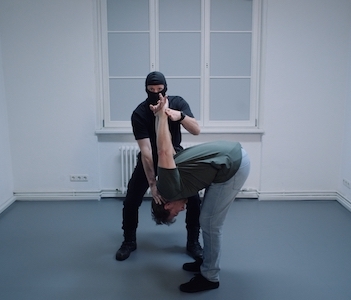 Sanne: So often when watching films I find myself desiring the feeling of absolute captivation, hoping to come across something extraordinary that makes the room disappear around me. Pavel Mozhar's Handbook was one of the few films to do that for me in 2021. I saw it not too long ago, a few weeks before its International Premiere at International Documentary Festival Amsterdam (IDFA), where it won the Award for Best Short Documentary. Effectively and unsettlingly making use of the pandemic's constraints, it sheds light on the arrests and brutalisation of Belarusian protesters after the country's 2020 election by combining a torture instruction-style video with readings of victims' testimonies. The clinical and minimalist approach is more impactful than any sensationalised or voyeuristic treatment ever could be to convey the horror and urgency of these events. After my colleague at Square Eyes and I watched Handbook, we didn't hesitate to welcome it to our slate. I hope audiences will catch it far and wide, because it's as impressive as it is important.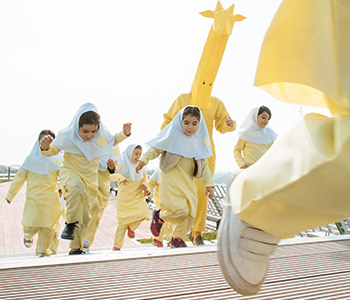 Bonus! from our lovely Festival Coordinator Heather Bradshaw: My favourite short of 2021 was Spotted Yellow, a beautiful exploration of female mental health made by Baran Sarmad, who I had the pleasure of interviewing for this year's Bill Douglas Award selection. Sarmad's overtly conceptualised world is tinged with the unmellow yellow of perfect madness, with her slow build of natural colour palettes to pure fantasy both seamless and mesmerising. Truly something to behold.
Cultural Highlights
Matt: Apart from a lot of good telly (top tip/guilty pleasure: check out Encore on Disney+) I have two other cultural highlights of 2021. In September the long delayed tour by German live techno marching band Meute finally reached the UK. I'd seen Meute back in 2016 in a sweaty warehouse at Hamburg Short Film Festival. Since then they've taken Europe and the States by storm with stunning live covers of dance floor classics by Laurent Garnier,  Dennis Ferrer and Deadmau5 alongside their own original tracks. The show at the 02 Academy felt both weird – so many people in one space – and sublimely cathartic. HWFG!
And the second one is – sorry – kinda mushy. My brilliant wife Dr Emily Munro spent most of 2021 in our back bedroom compiling a feature length film of footage drawn from the National Library of Scotland's Moving Image Archive. Living Proof explores Scotland's energy production and consumption since the 1940s, telling the tale of how grand schemes to harness hydroelectric or nuclear power have come hand-in-hand with industrial expansion and mass consumerism, attracting greater investment and ultimately exploitation, by overseas corporations aided by landowners and successive governments. Living Proof is an open, wide-ranging work inviting multiple interpretations and glimpses of hope, whilst also illustrating that the urgent questions we are asking our governments about climate chaos now are the same questions that were being asked fifty years ago. Systemic change is the answer!
Sanne: I was lucky and privileged enough to be able to travel across the continent this year, and for most of this autumn, I had Vienna as a comfortable Central European base. Being able to be back at festivals (in person!) felt immensely special, and it does even more so now that yet another variant is sweeping through. A definite highlight was seeing artist and filmmaker Ephraim Asili's debut feature The Inheritance at Viennale, with the director present for a warm and enlightening Q&A. In 2019 GSFF screened one of Asili's earliest moving image works, the Sun Ra Arkestra documentary Points on a Space Age, and LUX Scotland presented his Diaspora Suite in Glasgow in 2018, so I hope Scottish audiences will soon be able to catch this beautiful and rich new work here as well.
Of course, I can't forget the return to some of my favourite short film festivals: Uppsala Short Film Festival (Sweden) in October and Kurzfilmtage Winterthur (Switzerland) in November, both leading events in their respective countries. While I seem to have forgotten how to 'festival' – planning an intense day of events is a skill to relearn – there was the release of reuniting with industry colleagues and friends; of collectively enjoying shorts in a cinema again; of face-to-face talks and exchanges about support, collaboration and potential; of new connections or even first in-person meetings; of dancing together in public; and of a good old karaoke session. It was a little bit healing, something like feeling the first warm sun on your face after a long Scottish winter.
And now? 
Heading into yet another very uncertain winter, we are still cautiously planning for an in-person 15th edition in March, though it may look somewhat different from our past festivals. Keep an eye out on here and on our social channels for updates in the new year... Meanwhile, we thank all of you for your sustained support of GSFF, and wish you a safe, warm, and kind holiday period. See you in 2022!