Kevin Jerome Everson, the subject of a four programme retrospective at GSFF18, is one of the most prolific filmmakers currently working in the United States. Based in Charlottesville, Virginia, his overriding concern is with black working class communities, and the social, economic and historical forces underpinning their everyday reality.

Appearing at first glance to be observational cinema in form, his work straddles documentary, performance and abstraction, more often than not a creative collaboration with its subject. He is less concerned with narrative than with character and gesture, as well as the act of filming itself. Having trained as a photographer and sculptor, Everson adopts a handheld street photography aesthetic on even his most tightly scripted works, and – conversely - sculpts many of his props, such as the crow bar, hammer and manhole cover in Fe26, registering a level of craft that belies the documentary appearance of the work.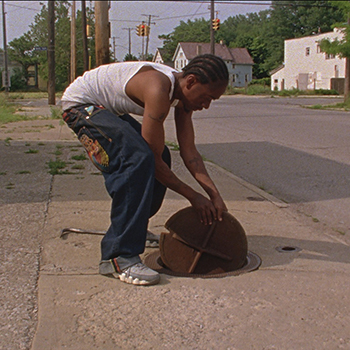 Everson's work seeks to rescribe the silenced histories of segregation and migration that have defined black American identity in the twentieth century. His films have been described by Terri Francis as stepping "into the vacuum where real family photographs and home movies have been lost to migrations, floods, and the precariousness of black life in America." Yet he is not concerned with the presentation of a narrative of oppression, resistance and sacrifice. Rather than pander to the expectations of the typical liberal middle-class audience for experimental film, he creates scenes of ordinary existence that – due to their rarity in contemporary cinema - are oddly revelatory. Everson aligns his own practice with the labour portrayed on screen. Whether medical practitioners (Ears, Nose and Throat), water department workers (Sound That) or street magicians (Stone), his subjects perform tasks with a skill we as viewers do not possess, and an understanding we are not invited to share.
If then his films avoid engaging with contemporary political discourses, they are politically highly charged in their very refusal to do so. They throw down a challenge, withholding information or clear narrative, thereby denying the audience's agency. We are simply required to turn up and look. This requirement is at its most demanding in Park Lanes, an eight-hour film charting a day's shift in a factory making bowling alley parts. Everson is explicit in his instruction that this work should not be presented as a gallery installation. It screens during the course of a day and the viewer must commit their working day to it.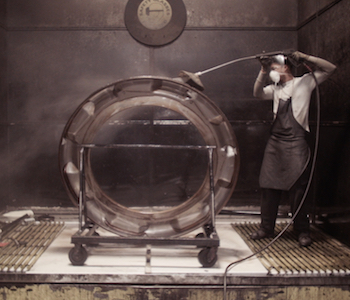 Alongside Park Lanes, GSFF has made a selection of eighteen of Everson's 130+ short films. Programme 1 focuses on testimony, on stories told, remembered or revised. Programme 2 explores the communities that grow around places of work, and how they change through time and the impact of gentrification, whilst Programme 3 is concerned with performance and graft. Yet running throughout these programmes is a fascination with movement and gesture, whether painstakingly repeated roping exercises (Ten Five in the Grass), American football moves reinterpreted as dance (The Release) or the raised hand of the ear examination echoing the swearing in of a court witness (Ears, Nose and Throat). A young woman reenacts the courage under fire of Cleveland Mayor Carl Stokes at a tense press conference during a 1968 riot (Emergency Needs), whilst in IFO multiple accounts of a UFO sighting are punctuated by a sequence of gestures performed in the street, an attempt at communication with the stars perhaps? Above all, Everson's intervention into the lives he portrays is as an artist: "I'm not a documentarian or a journalist trying to change shit or inform. I'm looking for form. That's the game."
Matt Lloyd
We are delighted to welcome Kevin to Glasgow to introduce the three programmes of his work. We are offering a special ticket deal of £16.50 (£12 concessions) for all three shorts programmes. This discounted rate will be automatically applied once you have added tickets to all three screenings to your basket.
Kevin will also be participating in a SUPERLUX masterclass event. Open to all SUPERLUX members - membership is free of charge.