Meet the 2021 Submission Viewers
We received an unprecedented 4,440 submissions to the 14th edition of GSFF. Here is the team working with Sanne Jehoul and Matt Lloyd to select our 2021 International and Scottish competition lineups.
Ane Lopez 
Ane is a Spanish creative practitioner based in Glasgow with a background in sustainable farming, design, film production, curation and marketing. She is the co-founder of A+E, an art and ecology collective that envisions a post-oil, radical and diverse culture that addresses the current climate crisis through experimental, ethical and accessible approaches.
Charlotte Ashcroft
Charlotte is the Programme and Marketing Coordinator for Film Hub Scotland, working with Scottish cinemas to develop new projects and promoting BFI FAN activity in Scotland. Having previously worked at Film4 Online, the Institute for Contemporary Arts and Showroom Sheffield, she is an alumnus of the ICO Cultural Cinema Exhibition course and the Europa Cinemas Development Lab in Sofia. She is working on a new film collective in Glasgow.
Dan Guthrie
Dan is an artist-filmmaker and programmer currently based in Gloucestershire whose work often explores the multiplicities of Black Britishness. Recent screenings of his work include Current Transmissions (ICA London) and Frames within Frames (Obsidian Coast) and he has previously programmed events for London Short Film Festival and SITE Festival. He prefers shorter films to longer ones.
Heather Bradshaw
Heather is a recent MSc graduate in Film Curation from the University of Glasgow, who began working for GSFF during the 2020 festival. She is the co-founder and film curator of the arts organisations Unmellow Collective and Unmellow Movies, as well as having worked for Glasgow Film Festival, WoFF and the Newcastle International Film Festival. Aside from festivals, Heather has also worked as a freelance stop-motion animator for Cumbrian bag company Millican, as well as an immersive film events organiser for Tyneside Cinema in Newcastle.
Jessica McGoff
Jessica is a film writer and video essayist. Her written work has been published in the likes of MUBI Notebook, Another Gaze and CinemaScope, and her video essays have been commissioned by the likes of Sight & Sound and the International Film Festival Rotterdam. She is particularly interested in female authorship in film, and seeking out forms of the moving image with anti-capitalist and anti-colonial potentials.
Joe McFarlane 
Joe is a Glasgow native and a recent graduate of the University of Glasgow's Film Curation MSc programme. He currently works as a proofreader and copy editor and, on a freelance basis, has also served as a submissions viewer for the Aegean Film Festival in Paros and Patmos, Greece, and as a television researcher here in Scotland.

Katie Goh
Katie Goh is a freelance writer and editor based in Edinburgh, covering film and culture for i-D, Vice, Little White Lies, Sight & Sound, the Guardian, Another Gaze and gal-dem. She is The Skinny's Intersections Editor and the Marketing & Communications Officer for the 2021 Glasgow Short Film Festival. 
Manon Euler
For the last 3 years, Manon has been working for Sheffield Doc/Fest as the Marketplace and Talent Programme producer, working across the industry programme. A graduate from Copenhagen University, she studied Literature, English and Film. Manon also worked for Nordisk Panorama and Open City Documentary Festival, and was on the 2021 This Way Up Development Forum Committee. Manon likes film festivals, among other things.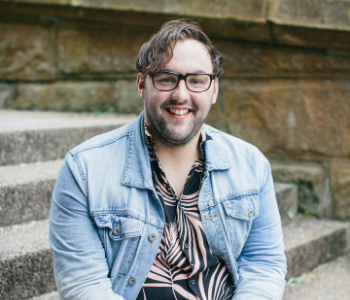 Michael Lee Richardson
Michael is a writer and youth worker based in Glasgow. Michael's short film My Loneliness is Killing Me – directed by Tim Courtney – won a BAFTA Scotland Award in 2018 and has been shown at film festivals around the world. Michael currently has television projects in development with Kindle Entertainment, Projector Pictures and Tigerlily, and a new funded short in development with Bombito. Michael is passionate about queer cinema, and has programmed shorts programmes for SQIFF, Pride House and Citizenfest Glasgow in the past. Michael likes 80s makeover montages, witches, and going to the shops.
Moira Salt
Moira is an artist and programming assistant living in Glasgow. Her work explores latent threads of power within diasporic cultures, and the possibilities of using the body to reorient our readings of history. She has shown work in London, Glasgow International, and has an upcoming exhibition at 16 Nicholson Street, Glasgow.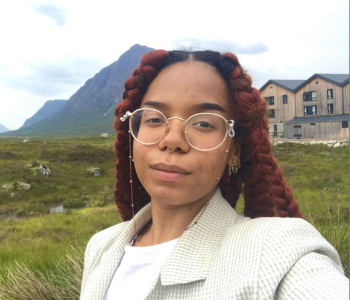 Natasha Thembiso Ruwona 
Natasha is a Scottish-Zimbabwean artist, researcher and curator. Natasha's artistic practice is research based and investigates racialised spatialisation (in line with Black Feminist Geographies) via the processes of writing, digital art and performance. Natasha completed a curatorship for Africa in Motion Film Festival 2019, and is a Project Coordinator for the collective UncoverED which is based at The University of Edinburgh - a student-led project researching into the global and imperial history of the university and how this relates to the current ways in which the university oppresses PoC. Natasha is also an Assistant Producer for movement researcher Claricia Parinussa, Committee Member for Rhubaba Gallery & Studios, and an Outreach Intern for the online resource Project Myopia.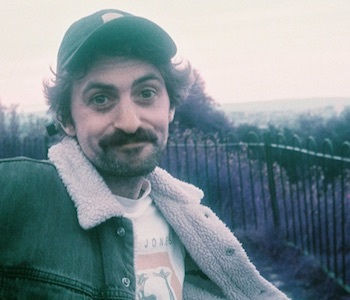 Oisín Kealy
Oisín is an LKAS PhD candidate at the University of Glasgow, researching human rights film festivals in South America. He has also worked as a submissions viewer with Document Human Rights Film Festival, a music researcher for dementia charity Playlist for Life, and a gastronomic tour guide in Glasgow's city centre.
Oriana Franceschi
Oriana is a programmer of films and live events. Since graduating with an MA in Film Journalism from the University of Glasgow in 2014, she has worked with Glasgow Film Festival, Glasgow Film Theatre, Edinburgh Short Film Festival, Tyneside Cinema, Sheffield Doc/ Fest and Cinema For All. In 2019 she acted as a member of the jury for Leeds Film Festival's British and Yorkshire short competition programmes.
Oriana currently works as Programme Manager for Sheffield Creative Guild, a collective whose members include filmmakers and exhibitors alongside visual artists, theatre practitioners, musicians, designers, and those working across various other creative disciplines. She also performs music as Shelley Byron with her band, Shelley Byron and the Poison Sleep.
Sara Shaarawi
Sara Shaarawi is a playwright from Cairo, now based in Glasgow. Sara is currently Executive Director of Highlight Arts and often works as an administrator for small film festivals in Glasgow.
Serena Scateni
Serena Scateni is a film critic and curator based in Scotland whose work focuses on the cinema of East Asian countries. As a writer, they have been featured in Hyperallergic, Sight & Sound, MUBI Notebook and other publications writing about documentary, anime and exploring female and queer representations in film. They also curated short film programmes for the Barbican and the Royal College of Art.
Sigrid Hadenius
Sigrid Hadenius is the festival producer of Uppsala Short Film Festival where she has been a part of the selection committee for the international competition since 2014. She also works as the industry producer at Tempo Documentary Festival in Stockholm. Sigrid has a background in art history (Uppsala University) and film studies (Stockholm University) and is currently also active as a board member of the Uppsala based arthouse cinema Fyrisbiografen.
Stuart Elliott
Stuart Elliott is a Glasgow based filmmaker with lots of experience making shorts. Stuart is also an alumnus of the talent labs at Edinburgh and Toronto international film festivals.